Welcome to the Barony of River Haven of Lochac!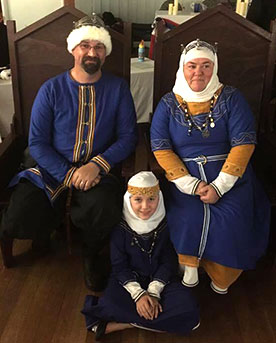 The SCA, or Society for Creative Anachronism Inc., is a family-friendly, non-profit, educational organization whose aims include re-creating the arts and crafts of the pre-17th century world.
We get together, learn all sorts of skills and crafts from cooking to fighting and everything in between, and we have a good time doing it. We are as much a recreation groups as a re-creation group – that is we do what we do as much for fun as for authenticity. We have many members whose aim is to be as authentic as possible in as many ways as possible. We also have just as many members who are content to be as authentic as required to give a medieval feel to things while having as good a time as possible. The choice of your goals is up to you.
The only things required are that you at least make an attempt at period garb ("garb" means costume), try to avoid the look and feel of the modern world (the terms "mundane" or "mundanity" usually refer to the modern world), and that you be polite to others while you are doing it. If you want to be a totally authentic person, fine. If you want to be a barely authentic party animal, fine as well.
Welcome to the Current Middle Ages. It is a journey full of learning and entertainment, and we hope to see you at a tourney, feast or Arts and Sciences evening soon.
So… the SCA sounds like something that would interest you?
For More details about River Haven please contact the Hospitaller or the Baron & Baroness.
What's on at the moment? Click here
We hold weekly gatherings and Special Events.
Looking for the Newsletter? Click here
The River Haven Rag is our monthly publication.
SCA Australia Bullying and Harassment Policy Click Here
SCA Australia Dispute Resolution and Complaints Management Policy Click Here
SCA Australia Code of Conduct Click Here
SCA Australia Book of Laws Click Here
Looking for River Haven MARK III Black Rubber Archery Blunt and Arrow Shaft Sales? Click here.
As required in the Lochac Combat Handbook – Missile Weapons Standards. River Haven produced the only official combat archery blunt!